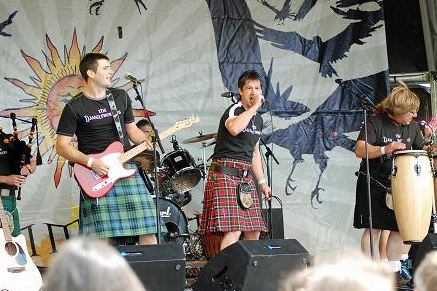 Overview
12 piece band offering the traditional sound of the the bagpipes with a big twist
Offering a high energy performance for any event
Price Range
Prices range from £2000 to £4000
About
The Dangleberries are a band who add bagpipe influences into "rock" music with a unique blend of vocals, drums and guitars. They are a mixture of bagpipes, drums, guitars and a tambourine player.
The Dangleberries formed in September 2001 and have gone from strength to strength, proving a huge hit with crowds at festivals such as the Wickerman, the Tartan Heart Festival and Loopallu.
The Band plays their own rousing material, as well as some covers, such as Katy Perry - Hot N Cold, Paolo Nutini - New Shoes and Bob Marley meets Scouting for Girls in their unique version of "Nae Wumin / Nae Greet". They have also recently added unique version of 2 well-known and hugely popular numbers by The Killers and The Black Eyed Peas.
In 2006, the Dangleberries were invited to Belladrum Tartan Heart Festival to play on the main stage. And have been back every year since, alongside names such as Embrace, The Automatic, James, Amy McDonald, Scouting For Girls, Magic Numbers, Attic Lights, the Waterboys and One Night Only to name but a few.
Where are they based?
The band are based in Dumfries & Galloway, South West Scotland, but regularly play across the whole of Scotland and into the North of England.
Ask friends & colleagues what they think of this act...
Contact This Act
Check availability details & receive a free no-obligation quote directly from this Act... or simply ask any questions you might have...
Alternatively, send a single enquiry to multiple acts by adding this act to your shortlist before requesting a free quote...
Why book through Freak Music