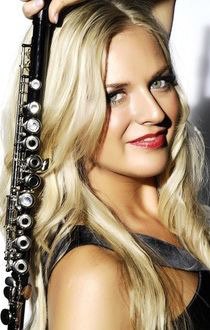 Overview
3 piece electric flute act performing over professionally recorded backing tracks.
Swarovski encrusted flute
Choreographed set and costumes changes
Arrangements on request
Price Range
Prices range from £400 to £1500
About
Offering an imaginative alternative to the popular electric string quartet format, Flight are a classical-crossover act that uses amplified flutes and backing track.
This exciting, vibrant and versatile ensemble can provide music for any occasion, from gentle background ambience to a dynamic fully choreographed set complete with virtuosic performances and visual effects.
Classically trained at the Royal College of Music and Guildhall School of Music and Drama, performers are award winning instrumentalists and have recorded and performed with Katherine Jenkins, Blake, Jethro Tull, Sir James Galway, Nigel Kennedy, Jonathan Ansell (G4) and Katie Melua.
Where are they based?
The band are based in London but regularly play across England and the rest of the UK
Ask friends & colleagues what they think of this act...
Contact This Act
Check availability details & receive a free no-obligation quote directly from this Act... or simply ask any questions you might have...
Alternatively, send a single enquiry to multiple acts by adding this act to your shortlist before requesting a free quote...
Why book through Freak Music