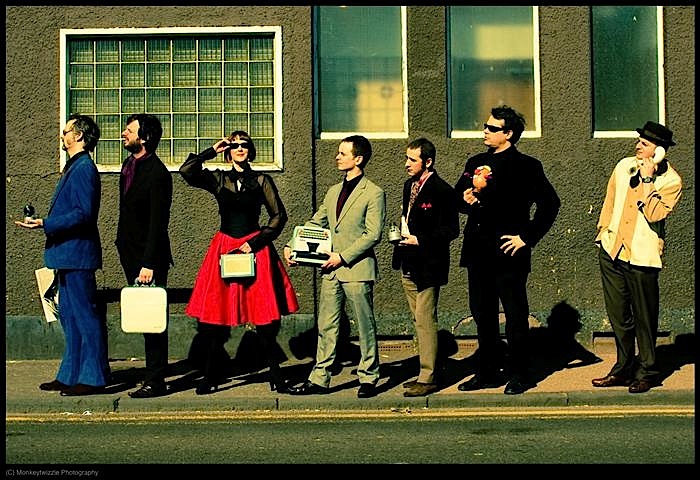 Overview
7 piece band
Lounge tinged swing, latin and funk band
Huge repertoire of classics of the genres plus modern pop
Price Range
Prices range from £1400 to £2500
About
The Counsellors are a seven piece extravaganza of a band. Their sound is classic lounge, with a twist of lemon, and an extra jigger of dry Vermouth. Comprised of vocals, three horns (trombone, trumpet and sax), guitar, bass and drums, The Counsellors swing (and we mean swing) from all over the world, with members from Australia, Canada, Brazil, Ireland and Scotland. Combine all these finger clickin' ingredients and you have a veritable fondue of grooves, taking musical titbits from Dusty Springfield, Doris Day, Aretha Franklin, Patsy Cline, Sammy Davis Jnr and...The Carpenters.
They are headed by the Delicious Miss B (Becc Sanderson), a singer with a smorgasbord of experience. An award winning performer in her native Australia, her recent triumphs include featured vocalist with the RSNO (Royal Scottish National Orchestra) Kings of Swing Big Band for their Proms performances at the Usher Hall in Edinburgh, and the Royal Glasgow Concert Hall, June 2006.
Holding the wooden spoon as MC (that's Master Chef) is trombonist Chris Greive, composer/arranger/general jazz God extraordinaire. From occupying the lead trombone chairs with the SNJO (Scottish National Jazz Orchestra) and the European touring West End show The Rat Pack Live From Las Vegas, to playing with Ray Charles and Natalie Cole.
It?s his deft and scrumptious arrangements that make The Counsellors simmer and cook, from swing to samba to funk.
The Counsellors repertoire is peppered with classics such as Aretha Franklin's Respect, The Beatles' Do You Want To Know A Secret, Patsy Cline's Walkin, After Midnight and Honky Tonk Merry-Go -Round, Dusty Springfield's I Only Wanna Be With You and Sunny, and Nancy Sinatra's These Boots are Made For Walking. All ingredients effortlessly combined to achieve their sublime honeyed sound.
The bands latest coup was supporting lounge/rap superstar Jimmy Luxury at Vegas night clubs Ocean Terminal spectacular, and choice private engagements including The Balmoral Hotel.
The Counsellors are here to swing your world. The tastiest of treats, with only the faintest whiff of the highest quality fromage.
Where are they based?
Based in Edinburgh but play regularly throughout Scotland and across the UK.
Ask friends & colleagues what they think of this act...
Contact This Act
Check availability details & receive a free no-obligation quote directly from this Act... or simply ask any questions you might have...
Alternatively, send a single enquiry to multiple acts by adding this act to your shortlist before requesting a free quote...
Why book through Freak Music