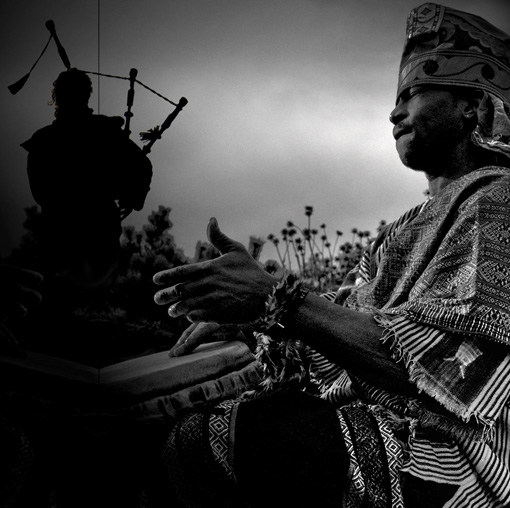 Scottish Pipes and African Drums
Overview
Unique duo bagpipe and djembe Drum act
Scottish bagpiper and African Drummer
Can also perform as a solo act if required
Price Range
Prices range from £400 to £1500
About
Jimi McRae and Sam Okoo first met while performing together in an award winning Edinburgh Festival show staged at the Botanic Gardens in 2003. Their music was a big hit with audiences and they have been friends ever since.
Both have plenty of experience in the entertainment business...
Jimi was the official piper for the Scottish Claymores (American football team) when they played at Hampden Park. He has toured the west coast of the USA twice and he supported Lulu at Stirling Castle Hogmanay 2005 with his old ceilidh band. He represented Scotland at Chinese New Year celebrations in Beijing on a British Arts Council sponsored visit in 2006. He has also toured extensively around Europe and enjoys strong fan bases in France, Germany and Spain. Jimi normally performs with the Highland or 'big' pipes. However, he can also utilise a selection of quieter 'small' pipes - including the Scottish, Chamber, and Arabic varieties - for a more chilled out vibe.
Sam comes originally from Nigeria and now lives in Edinburgh. He is perhaps better known as a dancer and dance choreographer having been involved in several successful Edinburgh Festival productions in recent years. He says he was playing drums in Africa from an early age - before he could even walk! Nowadays he likes to accompany Jimi's piping. Jimi describes Sam as "the best natural rhythmist" he has ever met. Sam likes to use traditional African grooves and raga beats when performing with Jimi and handles 4/4, 2/4, 6/8 Strathspey and jig time with no difficulty. Jimi likes to play his own modern compositions as well as good traditional tunes. In 2005 he won an award for outstanding songwriting from the UK's Performers Rights Society Foundation for a tune about riding a motorcycle in the Scottish Highlands called 'Dornie Bends'
Where are they based?
This band are based in Edinburgh but regularly play across Scotland and the rest of the UK
Ask friends & colleagues what they think of this act...
Contact This Act
Check availability details & receive a free no-obligation quote directly from this Act... or simply ask any questions you might have...
Alternatively, send a single enquiry to multiple acts by adding this act to your shortlist before requesting a free quote...
Why book through Freak Music