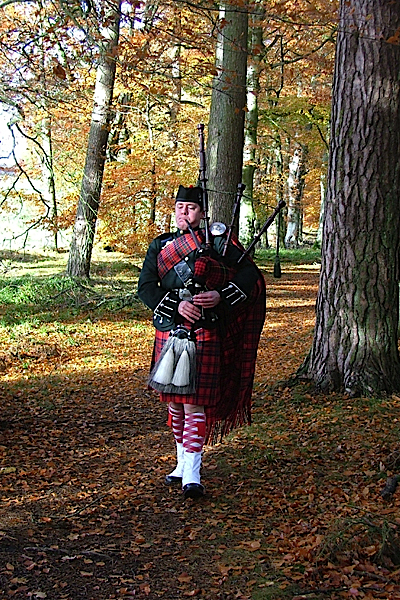 Overview
Solo piper in 'no 1' dress, with extensive experience
Featured prominently throughout the soundtrack of the film "Burke and Hare"! (Ealing Studios 2010), playing both pipes and whistle
Has also appeared in BBC One's "Songs of Praise", and "Piping Galore"
Released solo album in 2003 to critical acclaim in folk music press
Plays both full size Highland Pipes, and mellow 'Smallpipes' (see samples)
Can perform solo, or with percussionist, organist, accordionist, harpist, or guitarist.
Price Range
Prices range from £150 to £1000
About
Donald Lindsay plays the Highland Bagpipes & Scottish Smallpipes, and lives in Glasgow. Originally from there, Donald learned pipes through local pipe bands and instructors, and has been piping since his teens.
He's a musically very adventurous piper, who's career has included recording for film ("Burke and Hare"), TV ("Piping Galore", "Songs of Praise"), and radio, as well as working on numerous CD recordings, both solo and with artists as diverse as Caledon - Scotland's Three Tenors, and folk singer Alasdair Roberts.
He's been piping at weddings and functions for around 10 years, full time for 8 years, and has a wealth of experience in this area.
Where are they based?
Donald is based in Glasgow but regularly plays throughout Scotland and the rest of the UK.
Ask friends & colleagues what they think of this act...
Contact This Act
Check availability details & receive a free no-obligation quote directly from this Act... or simply ask any questions you might have...
Alternatively, send a single enquiry to multiple acts by adding this act to your shortlist before requesting a free quote...
Why book through Freak Music