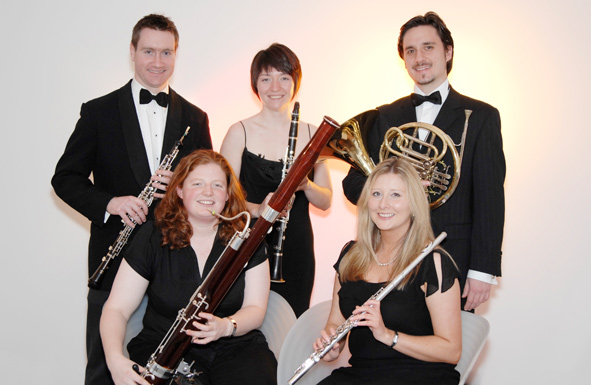 The Quintessential Wind Quartet
Overview
5 piece wind ensemble
Wide ranging repertoire
Ideal for wedding ceremonies, drink receptions and background music
Price Range
Prices range from £500 to £1000
About
QuintEssential are a five piece wind ensemble comprising of Siobahn Daly on Flute, Colin on Oboe, Emma McFadyen on Clarinet, Molly on Bassoon and Michael Berrich on French Horn. They specialise in classical, popular and Scottish music and are the ideal alternative to the string quartet.
Their sound blends perfectly to create a beautiful ambience suited to any number of occasions including weddings, recitals and corporate events.
The perfect alternative to the string quartet.
Where are they based?
The band are based in Glasgow but regularly play throughout Scotland and the rest of the UK.
Ask friends & colleagues what they think of this act...
Contact This Act
Check availability details & receive a free no-obligation quote directly from this Act... or simply ask any questions you might have...
Alternatively, send a single enquiry to multiple acts by adding this act to your shortlist before requesting a free quote...
Why book through Freak Music