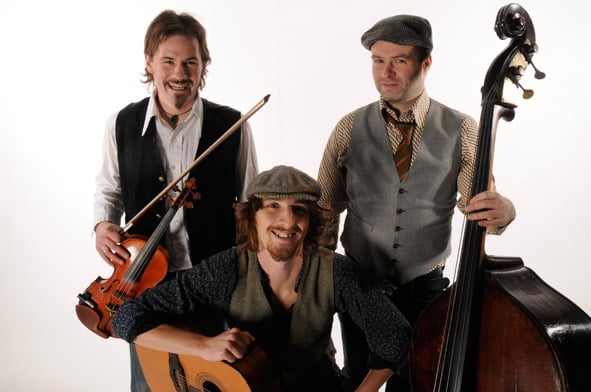 Overview
3 piece eclectic, High Energy Folk Band.
Covering music from Celtic, Balkan, Gypsy swing, and progressive music.
High energy performances using a vast variety of instruments from the accordion to highland bagpipes
Price Range
Prices range from £600 to £2000
About
The John Langan Band are an exciting three piece outfit offering a unique sound emerging from Celtic, Balkan, Gypsy swing, and progressive music. With a Celtic bias and a high energy delivery, they present an extravagant, eclectic package that, though contemporary, has a traditional, acoustic aesthetic, and a remarkably big sound for a three piece.
Since Winning the Danny Kyle Open Stage Award at Celtic Connections in 2008, The John Langan Band have come into their own and have built a fan base of people of all ages, walks of life and musical interests. Highlight performances include supporting Show of Hands in the Royal Concert Hall, Glasgow as part of Celtic Connections, supporting Capercaillie at Lomond Folk Festival and main stage slots at festivals such as Eden, Knockengorroch and the Big Tent Festival. Their debut E.P was among the best-sellers at the Coda Music Stall in The Royal Concert hall during Celtic Connections 2009.
Where are they based?
The band are based in Glasgow but regularly play across Scotland and the rest of the UK
Ask friends & colleagues what they think of this act...
Contact This Act
Check availability details & receive a free no-obligation quote directly from this Act... or simply ask any questions you might have...
Alternatively, send a single enquiry to multiple acts by adding this act to your shortlist before requesting a free quote...
Why book through Freak Music