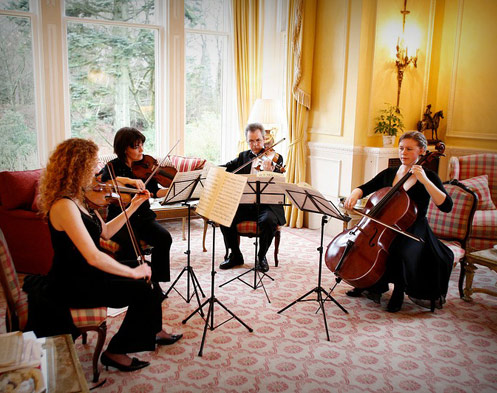 Overview
3-4 piece String Quartet
Covering many genres from classical to Bollywood
Can also perform as a Flute Quartet
Price Range
Prices range from £400 to £900
About
The Allestri Ensemble are a versatile and stylish string quartet / trio available to play for all kinds of occasion but specialising in providing music for wedding ceremonies and receptions.
At the core of the ensemble is Edinburgh based husband and wife team, Caroline and Julian Marshall, playing violin and viola, and augmented from a small pool of other professional violinists / cellists, including their daughter Zoe when not studying at the Royal Academy of Music in London. Their repertoire is both extensive and varied, encompassing Baroque, Classical, Romantic, Ragtime, American Songbook, Film and Musical, Folksongs, most eras of Pop and about twenty Bollywood songs. Many of their arrangements for both quartet and trio are unique to the Allestri Ensemble.
About the musicians...
Caroline Marshall (violin) graduated from the Royal Academy of Music in London, and has played with Scottish Ballet for more than 25 years. She has also played for the London Philharmonic Orchestra, the BBC Scottish Symphony Orchestra, the Esterhazy Chamber Orchestra, and was a member of the Esterhazy Quartet in London for 6 years. Highlights with the Esterhazy Quartet included playing aboard the QE2, at the Cannes Film Festival and at the Chelsea Arts Ball. Caroline was also principal 2nd Violin with the D'Oyly Carte Opera Company where she played all of Gilbert & Sullivan's operettas, and she also played regularly in many West End shows including Sweeney Todd, Phantom of the Opera, Annie, Oklahoma and Carousel.
Julian Marshall (viola and arranger) read music at Cambridge University and then studied viola at the National Centre for Orchestral Studies in London. He held full-time positions with the Opera and Symphony Orchestras in Palermo, Sicily and for three years with Royal Liverpool Philharmonic Orchestra. He has written a number of original compositions for the Allestri Quartet and many commissioned arrangements ranging from Iron Maiden and Bollywood to string quartet accompaniments for Mozart and Puccini arias.
Zoe Marshall (cello) was a pupil at St Mary's Music School in Edinburgh is currently studying cello at the Royal Academy of Music in London. She played with both the National Youth Orchestra of Scotland and the National Youth Orchestra of Great Britain.
All of their other players are drawn from the Scottish professional free-lance scene and play regularly for many of the Scottish orchestras, including Scottish Ballet, the BBC Scottish Symphony Orchestra and Scottish Chamber Orchestra.
Where are they based?
The band are based in Edinburgh but regularly play throughout Scotland and the rest of the UK
Ask friends & colleagues what they think of this act...
Contact This Act
Check availability details & receive a free no-obligation quote directly from this Act... or simply ask any questions you might have...
Alternatively, send a single enquiry to multiple acts by adding this act to your shortlist before requesting a free quote...
Why book through Freak Music