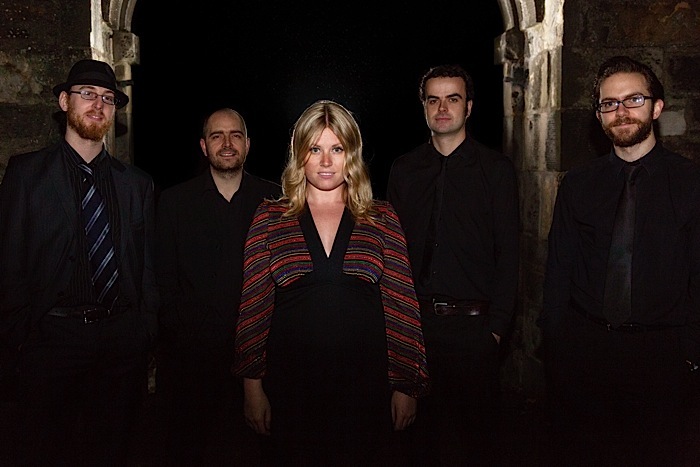 Overview
6-10 piece professional ceilidh and covers band
Both male and female vocals
Excellent horn section availible on request
Additional DJ packages availible on request
Onsite sound engineer present at every event
Price Range
Prices range from £1000 to £2500
About
The Jenni Gibb Band are one of Scotland's most successful function bands: a cheerful and energetic five-piece, comprising of Jenni Gibb on Lead Vocals, accompanied by Guitar, Drums, Bass and Keys; with an additional - and highly recommended - option of Fiddle for those all important ceilidh dances, a must for any Scottish function.
Jenni began performing from a young age and spent time honing her talent with one of Edinburgh's leading youth theatre groups. In 2001, at the young age of 17, Jenni was awarded a lead role in a touring tribute band, which saw her performing throughout Spain on a year-long contract. On her return to the UK, Jenni successfully secured the role of resident Lead Vocalist for Prestonfield House Hotel's 'Taste of Scotland Show' - a role she enjoyed working at for 2 years. As a result, Jenni is now a well-established name on the Edinburgh music scene and has since lent her vocal skills to various other projects. In addition to performance, she has also gained valuable Administration experience through her work as PA to Artist Manager and Booking Agent, Mark Whyles. Combining her love of performing and her impressive organisational skills, she decided to form her own function band in 2005 and has been dishing out crowd-pleasing shows ever since.
The Jenni Gibb Band have been entertaining audiences, both in the UK and abroad, with their intricately-crafted stage show along with a repertoire that could rival any jam-packed jukebox. From the sultry sounds of the 50s, through the swinging 60s, right up to modern day floor fillers, The Jenni Gibb Band's vibrant performance guarantees to encourage even the most stubborn movers and shakers onto the dance floor. The band have played in various major hotels and castles in Scotland - including Prestonfield House Hotel, Dundas Castle, Fingask Castle, Dalhousie Castle, Gleneagles, The Balmoral, Hilton Hotels and many more. Their brilliant reputation and unrivalled professionalism has placed them in high demand throughout wedding season and the festive period.
The Jenni Gibb Band showcases a hand-picked selection of excellent Scottish musicians who will do their best to put a smile on every face in the room, fill the dance floor for as long as possible and last but not least, ensure your event is an altogether roaring success.
Where are they based?
Based in Edinburgh but play regularly throughout Scotland and across the UK.
Ask friends & colleagues what they think of this act...
Contact This Act
Check availability details & receive a free no-obligation quote directly from this Act... or simply ask any questions you might have...
Alternatively, send a single enquiry to multiple acts by adding this act to your shortlist before requesting a free quote...
Why book through Freak Music