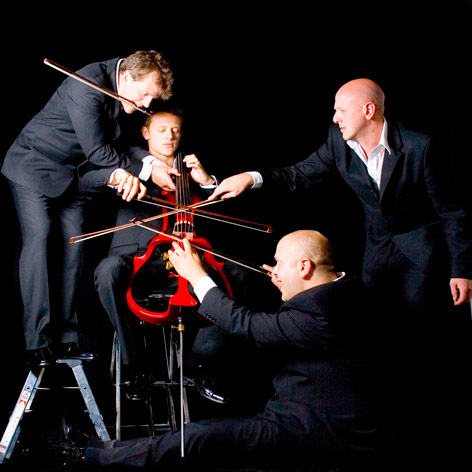 Overview
World famous electric string quartet
Performed on many TV shows and high profile events
Perform a huge repertoire of music from classical to pop
Price Range
Prices range from £4000 to £7000
About
All from the same family, these four very different characters bring you a truly unique show thathasto be seen to be believed. Skeletal electric string instruments and vocal percussion played by world class musicians.
The show includes...
'The History of Music in 5 Minutes' - 40 tunes packed into a 5 minute finale, Ravel's Bolerowith all four of them playing one cello at the same time anda game of 'name that tune' with twenty of the world's most famous film themes! Last year Stringfever performed their show in over 20 countries! They have recently played sell out shows to standing ovations at the Suncoast Casino in Las Vegas, the Cayman Arts Festival, and the Henley Festival as well as several appearances on prime time ITV and BBC Television.
Combing outstanding musical skill with an exceptional talent for involving and engaging the audience, Stringfever has the WOW factor and will provide you with a night you'll never forget.
Where are they based?
The band are based in London but regularly play throughout Scotland and the rest of the UK.
Ask friends & colleagues what they think of this act...
Contact This Act
Check availability details & receive a free no-obligation quote directly from this Act... or simply ask any questions you might have...
Alternatively, send a single enquiry to multiple acts by adding this act to your shortlist before requesting a free quote...
Why book through Freak Music