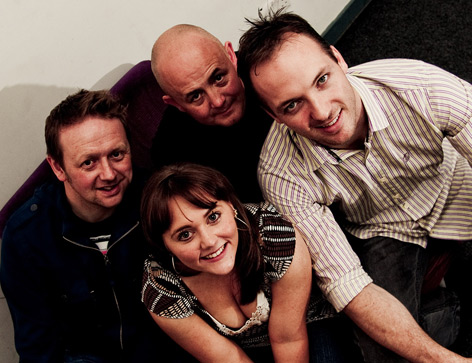 Overview
4 piece all-round party covers band
Female vocals
Optional DJ package
Price Range
Prices range from £500 to £1500
About
A classic rock 'n' roll line up features guitar, bass and drums and sensational vocals. At any show you are sure to hear "that song from the radio you cant get out of your head" and some of your favourite oldies.
The band plays songs from the likes of Taylor Swift and The Kings of Leon. As well as, some great classics from the Rolling Stones and Blondie.
You could describe this band as a group who have a much fun as the audience. They are great musicians who know how to get the party started, and perhaps more importantly, know how to keep it going!
The Reasons have a wealth of experience and talent - between them they have played in chart topping bands, carried out session work and in their own right have recorded and performed...
Jon - Drummer - Having played with some of Scotland's biggest pop names, Hue and Cry, Aztec Camera and a founder member of The Big Dish, Jon is now the guiding light in The Reasons. Steadfast rhythm and superb fills make Jon the beat behind the party
Carly-Jane - Vocalist - Dumbarton is home to Carly-Jane and she grew up steeped in music. Having graduated from drama school Carly-Jane has starred in a number of musicals throughout Scotland and when not singing with the band can still be found treading the boards!
Jim - Guitarist - Jim hails from Caithness and claims to have played in every pub, hotel and town hall North of Embo! A blues based guitarist with great style, Jim loves the party atmosphere The Reasons create
Ben - Bassist - Originally from Newcastle Ben toured the north east with "The Park" for several years before moving to Glasgow. Ben's Love for the Beatles inspired him to take up the bass and just like his hero's he has an abundance of talent
Where are they based?
Based in Glasgow but play regularly throughout Scotland and across the UK.
Ask friends & colleagues what they think of this act...
Contact This Act
Check availability details & receive a free no-obligation quote directly from this Act... or simply ask any questions you might have...
Alternatively, send a single enquiry to multiple acts by adding this act to your shortlist before requesting a free quote...
Why book through Freak Music