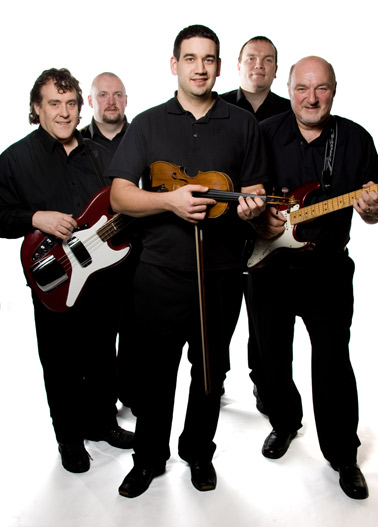 Overview
5 piece ceilidh and covers band
Ceilidh music followed by covers
Fiddle
Professional caller
Price Range
Prices range from £700 to £1500
About
Best before midnight are a five piece ceilidh and covers band and comprises Phil MacFarlane on fiddle, Fraser Campbell on keyboards, Craig Scott on drums and percussion, Ronald Webster on Bass guitar, electro-accoustic guitar and vocals, Jim Campbell on lead guitar and harmonies. The band is a collaboration of versatile and richly talented musicians with an enviable wealth of experience in the music business. 

In addition to countless other bands, performing many styles from classical music to jazz, Best Before Midnights' members have all worked together in previous musical incarnations, Phil and Fraser in the Canny Clamjamphries, Ronnie and Craig in ShoeString, and Ronnie, Jim and Fraser in Focus, to name a few.

Best before Midnight use an eclectic mixture of traditional ceilidh tunes, ceilidh tunes with funky and catchy arrangements unique to Best Before Midnight, and ceilidh tunes such as "The Broken Chair" "The Cuckoos nest" and "Gillians Muckle Lochan" written and arranged by band members. This mix of music ensures no two sets are alike, music for each dance being vibrant unexpected and different.


Their caller is ex 3 times Senior Scottish Highland Dancing champion Gillian Whitelaw. Gillian is also principal and choreographer of the world renowned Ballochleam Highland Dancers, and one of the arts most successful teachers, with many champions Scottish and British from her
own dancing school. Accompanied by Ronnie and Craig, and an assortment of other musicians, 
Gillian and the Ballochleam Dancers have appeared in the USA, at many festivals in France, Majorca, Germany, Italy, Galicia, Astouria, Ireland, Wales, England, Belgium, and twice in Taiwan. In many of these countries whilst touring with the dancers, Gillian has hosted many ceilidh workshops, often using an interpreter, and has an extensive catalogue of reels, and set dances, from which she can have guests at a ceilidh or wedding performing in minutes. Your guests can be in no safer hands than with Gillian calling.
...And when you tire of ceilidh dancing or would like a change of mood, Best before Midnight will give Gillian a rest, and slip into a set of polished pop classics, Rock and Roll, and modern covers. Or perhaps you just want to listen for a while, to Best Before Midnights' Celtic Folk/Rock music...
Where are they based?
This band are based in Falkirk but regularly play across Scotland and the rest of the UK
Ask friends & colleagues what they think of this act...
Contact This Act
Check availability details & receive a free no-obligation quote directly from this Act... or simply ask any questions you might have...
Alternatively, send a single enquiry to multiple acts by adding this act to your shortlist before requesting a free quote...
Why book through Freak Music