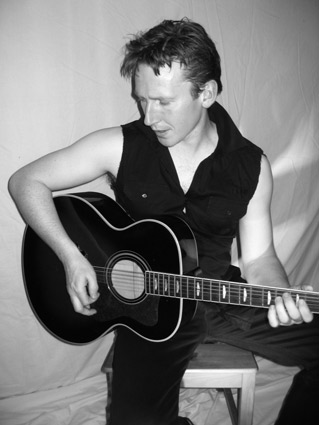 Overview
Solo acoustic guitarist and singer
Sings all the popular sing-along classics
Different theme music packages available
Price Range
Prices range from £150 to £500
About
Having been a musician for nearly 20 years, Andy has sang and played in many bands from different genres, at many bookings throughout the UK, where he has gathered vast experience and honed his skills. He has great audience interaction and a great personality and look that will appeal to all age groups and make any function or event a joyful one.
Andy can offer different options which are suitable for many different types of events, e.g. weddings, corporate events, parties, concerts, theme nights, resurants, pubs and clubs etc. Please see below for details.
Depending on the event, Andy can perform as a basic acoustic act, or with top quality backing tracks to get a the full band sound. Its up to you guys!!! He uses a modern P.A system and lights if the event requires it which are suitable for small to medium venues.
Acoustic Option
He performs as a solo acoustic act which consists of a versatile voice and rockin' acoustic guitar, playing a wide and varied selection of songs from the 50s to present.
Andy loves playing these kind of shows as he gets to play loads of great songs in a totally stripped down way, but he always tries to stay away from the obvious and put his own passionate style into them.
Set length :- 2 x1hr sets.
The "Best of " option
The songs Andy plays cover all decades from the Swing era, up to the present day, by well known artists and bands, covering styles from pop, rock, swing, rock and roll, 60s,70s, 80s, and modern classics from the last 10 years.
Set length 3 x 45min sets
"MACS BACK IN TOWN" option.
This is a tribute to the swing era in which he uses top quality backing tracks and a full cityscape backdrop. Andy perform classics by artists such as Frank Sinatra, Bobby Darin, Michael Bublé and Dean Martin.
Set length :- 2 x 30min sets or 1 x 1hr set
Disco option.
Andy can also provide music for the breaks when he is not performing. This can be background or Disco. Let him know what you require.
Where are they based?
Andy is based in Dumfries but regularly play throughout the rest of Scotland.
Ask friends & colleagues what they think of this act...
Contact This Act
Check availability details & receive a free no-obligation quote directly from this Act... or simply ask any questions you might have...
Alternatively, send a single enquiry to multiple acts by adding this act to your shortlist before requesting a free quote...
Why book through Freak Music